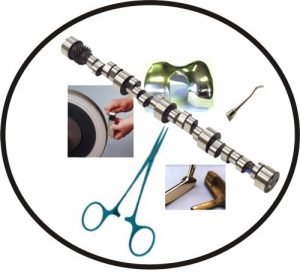 Medical Device Manufacturing
Surgical and Dental Tool Manufacturing
Scientific Instrument Manufacturing
Golf Club Manufacturing
Metal Polishing and Restoration
Computer Chip Manufacturing
Knife Shears and Sword Blade Polishing
Fire Arms Polishing
Airfoil Finishing
Metalography
Molds and Dies
Crankshaft and Camshaft Micro-Polishing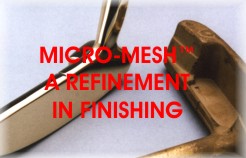 Perfect for:
Titanium
Aluminum
Stainless Steel
Brass
Copper
Zinc
Cobalt Chrome
Precious Metals
The use of Micro-Mesh will increase productivity whether hand deburring or using automated processes.
We recommend that conventional abrasive products be used to machine, grind or sand to a 20 micro inch roughness average prior to using the MX series of Micro-Mesh. Then proceed with the MX series to achieve a sub micron mirror finish. Keep in mind that there are thirteen grades of MX and that you can stop after any grit you so desire enabling you to develop custom finishes your competitors can only dream about!

MX is available in many formats, including:
Rolls
Sheets
Discs
Belts
Tapes
Handi-Files
Soft Touch Pads