Aircraft Transparencies
DON'T BE A VICTIM OF MISS-INFORMATION:
It doesn't matter whether you're flying a Cessna 150 or an F-16, having a less that perfect windshield can be not only unpleasant, it can be utterly dangerous! Window maintenance is just as important as any other basic maintenance of your aircraft, but unfortunately many of us never get around to learning about it, let alone practice it. Some of us don't even realize that acrylic can be restored, but instead think they must be replaced. We've heard fellow pilots talk about using wax to fill in scratches, using toothpaste to remove scratches, using Windex to clean windows is o.k. Needless to say, there is a lot of miss-information on window care.
NOT ALL PRODUCTS ARE CREATED EQUAL:
We've all learned to read labels when it comes to putting food into our stomachs. Its also important to check the label on the cleaners and polishes you use on your aircraft transparencies. Avoid using any product containing: petroleum distillates, alcohol, wax, ammonia or any solvents. When in doubt, ask for a material safety data sheet. Over time, whatever you place on your transparencies will be absorbed. Any of the before mentioned will cause the transparency to cloud, yellow and craze over time and who has the extra money to spend on window replacement these days? Pay a bit more for quality products and save a bundle in the long run!
USE WITH CONFIDENCE:
Micro-Surface has an entire line of maintenance and restoral products that have been fully tested and approved as safe for acrylic and polycarbonate transparencies. Micro-Surface is unique in that it is the only manufacturer of restoral products who is also an FAA-licensed Repair Station. Our crew of professionals use the same products we sell to you. We know from experience how effective they are!
WHAT IS ENTAILED IN USING THIS SYSTEM?
You don't have to be a licensed A&P mechanic to use our system unless you're working on aircraft with pressurized cabins. For everything else, the only requirement is reading and understanding the instructions fully prior to beginning. Some of our kits do require certain equipment, which we fully explain in our Suggested Tool section of our home page. We recommend that you read that over prior to using a mechanical kit. Removal of windows is not necessary using our system. You will need to mask everything off suitably however. If you are uncomfortable or unsure of how the process will work, we encourage you to practice on a scrap piece of plastic until you gain confidence.
HOW DOES THIS PROCESS WORK?
Our Micro-Mesh system actually "removes" damage. You will be micro-abrading bits of surface off until you come to the bottom of your original damage, ie: bottom of the scratch, crazing, etc. You will then keep abrading until all of the damage is removed. Then, you will begin the restoral process of the sytem to bring back the optics of the transparency. This will take place in a series of using progressively finer and finer micro abrading steps which smooth the surface back to new optical clear condition.

EXAMPLES OF TYPICAL DAMAGE OUR PRODUCTS CAN REMOVE
This example shows a cabin window with paint overspray. Half of the window is restored using our Light Damage Removal Kit.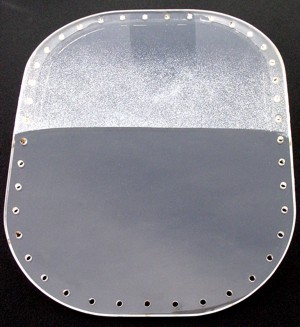 An example of chemical damage. Half of the window was restored using our Heavy Damage Removal Kit.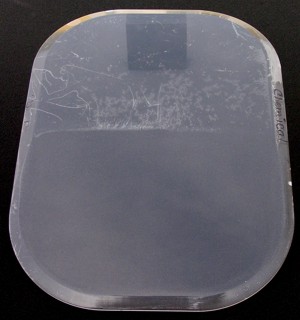 This window shows crazing and deep scratches. Our Heavy Damage Removal Kit removed the damage and restored optical clarity.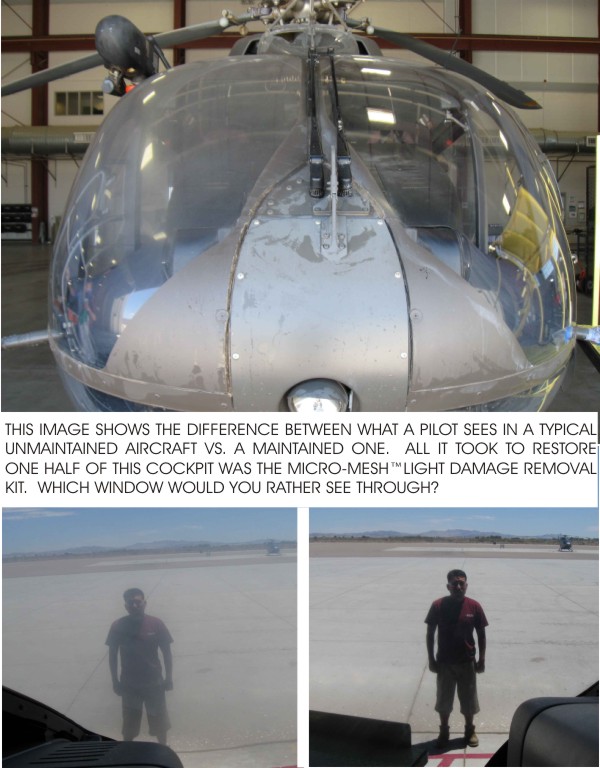 HOW BEST TO CARE FOR TRANSPARENCIES
Once windows are fully restored again you will want to keep them that way. We recommend using our Maintenance Kit on a regular basis. This kit will remove any minor topical surface damage and keep them looking like new. The secret ingredient of this kit is MICRO-GLOSS liquid abrasive. This concentrated, water base polish will remove slight damage and at the same time polish your windows. MICRO-GLOSS is the only ASTM tested polish on today's commercial market that has passed craze testing. It is used as a daily TYPE 1 cleaner for aircraft canopies. It can be applied by hand with all cotton flannel or for more damage removal you can buff it in with a lambswool pad and then follow with a soft foam finishing pad.
WINDOW CLEANING
MICRO-GLOSS in a spray formulation is our new WinBRIGHT Plastic Cleaner. For quick cleaning, on the go – you'll find this product to be indispenceable. You've asked for a spray formulation and we've responded. Simply spray on and wipe off.
FIRST THINGS FIRST – BUG REMOVAL!
Before beginning any maintenance, minor or major – you will want to remove any type of bug residue and grit or you will be rubbing and/or grinding it into the transparency, causing yourself additional work to rectify. Our newest product will address these issues. BUG BLASTER spray bug remover not only effectively dissolves bug proteins, it does it without creating the usual messy, dripping runoff other products cause.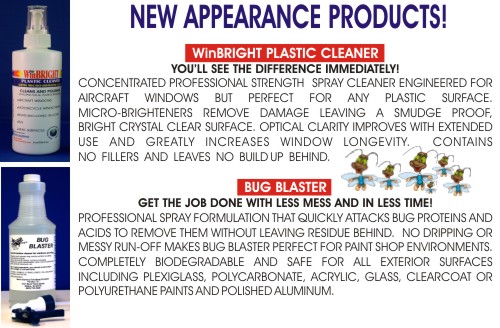 Featured Products - Aircraft Transparencies