Leading Edge Polishing
Polishing Aluminum Leading Edges
Polishing leading edges can be a difficult task. Done incorrectly, you can spend tedious long hours rubbing and buffing.
Before beginning, make sure that the aircraft is going to be parked in a hangar after restoration. Rain and sun will quickly spot and streak your work in a matter of weeks requiring you to constantly touch up and maintain it.
Follow the instructions to our Micro-Mesh Leading Edge Polishing Kit.
Upon completion the aluminum should have the appearance of chrome. The more shiny the finish, the longer it will last.
Clean surfaces with BUG BLASTER insect remover prior to wiping down the aluminum between flights. Remove all traces of carbon, bugs, and dirt that could cause oxidation and then pitting.
Re-polish aluminum surfaces every 12 weeks.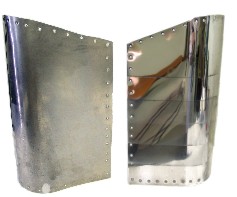 This is a before and after. The piece on the right shows the progression of steps as the aluminum is polished to a brilliant mirror finish. A rotary buffer and our MICRO-MESH Leading Edge Kit were the only items required for this process.