Paint Perfecting
For high luster finishes on painted surfaces. Removes orange peel, buffer scratches and most other surface blemishes. Water will bead up onto the surface when finished as if the car had just been waxed. After using Micro-Mesh™, we recommend using a good quality wax to protect the quality of the surface.
Effective on:
enamel
varnish
lacquer
imron
epoxy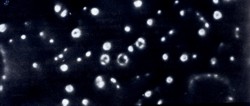 Acid rain damage consists of tiny pits or craters in the paint's surface. If the damage is stopped soon enough, the pits will not penetrate the clear coat of a base/clear coat paint system.
Removing minor surface defects that protrude through clearcoated surfaces, ie: dust, contamination, sags. Using MICRO-MESH™ avoids leaving concave, gouged repair areas that would have to be repainted, costing additional time and expense.