Nail Care Industry

TREND SETTING!

OPTIMUM HIGH GLOSS !

ULTIMATE LIFE!

UNLIMITED COLOR CHOICES!
Discover quality and performance unlike any other cosmetic buffers on today's market. These unique buffers can be used for long periods of time, can be disinfected and can be ordered in any pantone color and Micro-Mesh™ grade. Use to shape, smooth, and polish natural nails to such a high gloss that you'll look like you're wearing clear nail polish!
CHECK OUT THE HOTTEST NAIL BUFFER ON TODAY'S MARKET – NEON SHIMMER™ 3-WAY BUFFERS!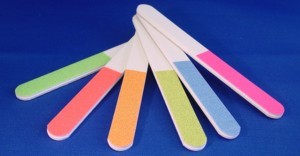 Buffers that "sparkle" and give you that "hold my hand" manicure! Available in Glistening Lime, Tropical Orange, Sugared Blueberry, Flamingo Pink, Avacodo Dazzle and Coral Glow! Use the glitter neon mesh to shape and clean, the white to smooth and refine and the gray side to polish – get 1 of each in a 6-pack. If you're not using buffers made by Micro-Surface, try ours to see and feel the difference!
MADE IN THE USA! MADE TO LAST! MADE TO SHINE!
Featured Products - Nail Care Industry